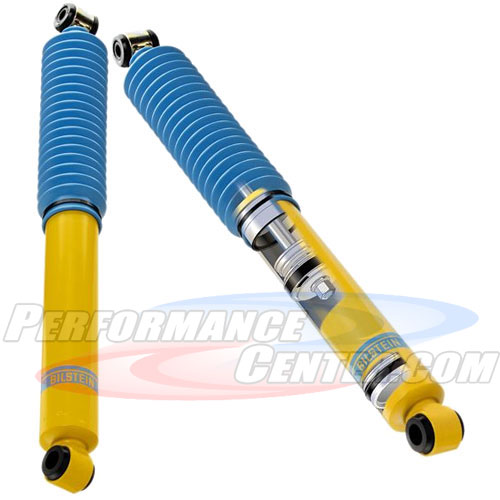 For over 40 years, Bilstein has been a unique and driving force in the automotive suspension industry. From racing and testing in Formula 1, NASCAR, SCCA, Rally, and Off Road to original equipment on BMW, Ferrari, Jaguar, Mercedes-Benz, Porsche, Subaru, Toyota and GM trucks, Bilstein Gas Pressure Shock Absorbers haven proven to be the best. If you've never experienced the exhilaration you feel when driving a vehicle equipped with Bilstein Shocks, you're in for a pleasant surprise. You'll soon discover there is, quite literally, nothing like it. Unbelievable control. Precise handling. Ultimate performance. And incredible comfort. Most conventional shocks are made with shock bodies cut from a piece of steel tubing, stamped internal parts and compromised tolerances. In contrast, Bilstein's shock bodies are precision formed through a unique seamless extrusion process. This provides superior strength along with high finish tolerances that are usually associated with surgical instruments. The finished body is then mated with a solid, induction hardened steel chrome plated and polished shaft, machined valving components and the highest quality seals. Combined with extreme attention to detail, Bilstein provides you with the closest thing to a hand built shock available today. Conventional shocks slowly lose efficiency and eventually fail over a period of time, causing excessive tire and suspension wear. Bilstein Shocks continue to deliver optimum performance for life. Of all your suspension components, nothing works harder than your shock absorbers, making it critical you pick the right ones for your vehicle. Bilstein Gas Pressure Shock Absorbers are the least expensive, fastest way to dramatically improve the ride, handling and control of your vehicle. Plus, with Bilstein's lifetime warranty, you may never have to purchase shock absorbers again. For most vehicles including full-size sedans, SUVs and trucks. These shocks provide improved handling and stability without sacrificing ride comfort. They offer super damping ability that makes them ideal for heavy hauling for occasional off-road use, while maintaining an exceptional street ride.
For the performance minded driver, Bilstein Sport shocks deliver absolute mastery of the road surface. Designed to push a car's suspension to it's performance peak, these shocks are well suited for use with special springs, anti-sway bars or other suspension upgrades. Bilstein shocks are backed by a limited lifetime warranty.
Showing 1-2 of 2 products
Page 1 of 1
Retail Price: $345.99
Sale Price:
$264.77
Shipping: Free!
Retail Price: $381.99
Sale Price:
$264.77
Shipping: Free!