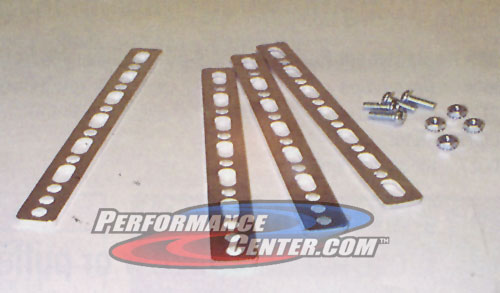 Felx-A-Lite Vehicle Specific Electric Fans install easily and unlike belt-driven fans, don't use your engine's horsepower to run. Flex-A-Lite manufacturers many fans for every possible application, and with many options, so finding the right fan is not a problem.
If using a TrimLine fan in off-road applications, or in areas with extreme potholes, we do not recommend thru-core mounting. This bracket set offers the user the option of installing a TrimLine fan without using a thru-core mounting set-up, which helps protect the radiator. The fan's nylon mounting clips bolt to these aluminum brackets that span the radiator and screw to the surrounding sheet metal, providing a more durable, more professional installation. Kit consists of screws, locknuts, and four metal brackets.
Retail Price: $29.99
Sale Price:
$25.27
Shipping: Free!
Retail Price: $35.99
Sale Price:
$25.55
Shipping: Free!
Retail Price: $13.99
Sale Price:
$9.79