Hypertech Optional HyperPAC EGT Module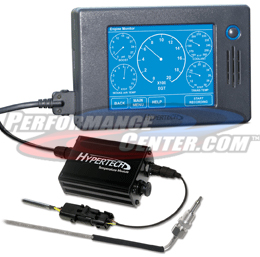 Hypertech's performance chips and modules modify the ignition timing and fuel delivery to increase performance across the entire power band. Spark timing and fuel delivery are optimized for your specific application. Available as chips or modules, depending on your application.
This Module adds exhaust gas temperature (EGT) as a gauge option in the Engine Monitor section of the HyperPAC. It also allows the HyperPAC to monitor and record exhaust gas temperature, information that is not available from the vehicle's factory sensors. Kit includes an EGT sensor with a shielded harness, extension cable, threaded bung, temperature Module, serial connector cable, and replacement HyperPAC harness.